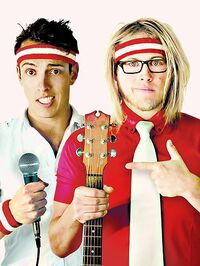 Anyone for Tennis?
were a comedy rock duo consisting of vocalist/acoustic bassist
Jason English-Rees
and guitarist/backing vocalist
Andrew "Doody" Doodson
.
AFT? were best known for their off-kilter style of humour, as well as their costume of tennis outfits to reflect the band-name. They released one live album, which was recorded at the Felix Bar in Melbourne in June 2011.
They announced their imminent split in April 2012 via their official website.
The group appeared on The Little Dum Dum Club twice. The first was as official guests on the show,on the 33rd episode. It was posted on the 25th of May, 2011. On the show, they performed two songs: Heterosexual and The One (formerly known as Future Wife, but changed due to the previous title giving away the punchline).
Their second appearance was as a musical guest on a live Dum Dum Club at Softbelly Bar in Melbourne. Along with guests Virginia Gay, Nick Cody, Greg Fleet and Luke McGregor, AFT? performed a new song about the podcast itself.
Community content is available under
CC-BY-SA
unless otherwise noted.