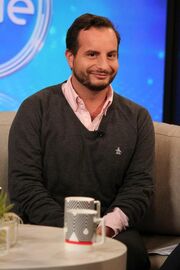 Dan Ilic
is an Australian presenter, comedian, writer, director, actor and filmmaker. Ilic has been known for his parody work, including videos and
Beaconsfield: The Musical
, which he authored; and more recently for his work on the shows
Hungry Beast 
and 
Can of Worms
.
Ilic started his performing career with Cumberland Gang Show and eventually joined the production team in 1994 as a junior producer at the age of 13. Dan spent 11 years performing and producing Cumberland Gang Show, and in the late nineties he was also a regular fixture in Sydney's amateur musical theatre scene.
Dan was also part of the university sketch comedy The 3rd Degree, which formed the base of the Network Ten's cult sketch comedy television show The Ronnie Johns Half Hour; of which Dan was not only a cast member and writer, but also an animator and producer of several sketches. In 2009, Ilic joined the Hungry Beast team, of which he was a host and reporter for all three of its seasons. He currently works on Network Ten's Can of Worms program as a writer, consultant and reporter.
To date, Dan has been on The Little Dum Dum Club three times. He made his debut on the show's 93rd episode, which was published on July 3rd. The following week, Dan made a cameo at a live episode recording at the Sydney Comedy Store; introducing the show doing an impersonation of SBS voice-over actor Robbie McGregor. The episode featured Larry Emdur, Scott Dooley and Ilic's Hungry Beast boss, Andrew Denton. Wil Anderson and Luke McGregor also made appearances. Ilic returned in February 2013 as a guest alongside Talking Poofy host and former Can of Worms guest Adam Richard.
Dan was briefly mentioned prior to this in an epsiode featuring Lawrence Leung in June 2011. In the middle of a quasi-feud with John Safran, Leung was asked if he wanted to insult any other comedian or media personality on the show. Leung chose Ilic, who responded in the closing segment of his own episode.
Community content is available under
CC-BY-SA
unless otherwise noted.