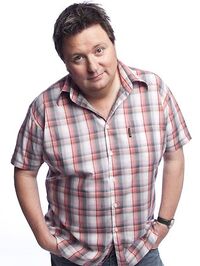 Dave O'Neil
is a Melbourne-based stand-up comedian, actor, writer and radio personality.
In the late 1980s, he was a member of Melbourne band Captain Cocoa, in which he played bass. His brother Glenn was the lead vocalist. O'Neil ventured into radio in the early 90s, appearing on the Osso Booko Show on Melbourne community station 3RRR from 1992 to 1997, co-hosting the one hour sketch comedy show on Sundays with Vic Plume and Alan Parkes. He also spent some time on the RRR Breakfast team with Kate Langbroek and regular phone-ins from Dave Hughes.
In 2001 he joined then-new radio station Nova 100 in Melbourne, on the top-rating Hughsey, Kate and Dave breakfast show. He later left in the mid-2000s for Nova's sister station, Vega 91.5 FM, to co-host the breakfast show Dave and Denise with Shaun Micallef.
Along with an appearance alongside Eric Bana in the Australian film The Nugget, O'Neil has also worked with Adam Hills on his television shows Spicks & Specks and Adam Hills in Gordon St. Tonight as a regular guest.
O'Neil has appeared seven times as a guest on The Little Dum Dum Club. His first appearance came in early 2011, on the fifteenth episode of the show. The episode was published on the 2nd of February, 2011. O'Neil returned for the 61st episode of the show, alongside fellow returning guest David Quirk. The show was published on November 29th, 2011. During the 2012 run of live shows for the Melbourne International Comedy Festival, Dave appeared with Deal or No Deal host Andrew O'Keefe and Xavier Michelides. On the show's 105th episode, O'Neil appeared alongside Pete Sharkey. He returned as a part of a live show for the 2013 MICF. The guests for the episode also included American comics Pete Holmes and Eddie Pepitone. O'Neil then appeared on the 150th episode of the show with Danny McGinlay. His most recent appearance came in May 2014, along with Dilruk Jayasinha.
O'Neil also briefly appeared in the show's 74th episode when he made a phone call to Karl Chandler while the podcast was being recorded. Chandler answered the call "on air" by recording the conversation on loudspeaker. The guest that week was comedienne Fiona O'Loughlin, with the episode published on February 29th, 2012.
Community content is available under
CC-BY-SA
unless otherwise noted.