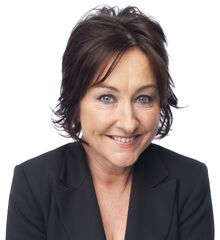 Fiona O'Loughlin (born in 1963) is an Australian comedian, known primarily for her stand-up comedy; for her television performances, on ABC TV's Spicks and Specks, and Channel Ten's Rove Live and GNW; and a series of advertisements for Heinz soups. She has performed as a headline act in the Melbourne International Comedy Festival and the Edinburgh Fringe festival.
Fiona was born into an Irish Australian family at Warooka, South Australia, and is herself a mother of five children. She lived in Alice Springs for 27 years but relocated to Melbourne in 2012. Her family, and attitude towards children, make up a large component of her act. She is represented by Live Nation, Australia.
In 2009, she collapsed during a performance in Brisbane. She subsequently announced that she suffers from alcoholism.
In 2015 she appeared on the podcast for the live T-Shirt launch in Melbourne, in which she revealed that she had been in a coma for a month during June / July due to organ failure, which is blamed on a faulty heater.
Fiona has appeared on The Little Dum Dum Club 10 times, 11 if you count the recorded Drunkcast highlights episode '233.5', in which she appeared. Her first appearance was episode 74, which was released February 29, 2012, and she returned for episode 161 with Joel Creasey, released November 6, 2013; episode 179, the live podcast with Tom Ballard and Nick Cody, released March 11, 2014; episode 204 with Lawrence Mooney, released September 2, 2014, which was the most downloaded episode for a time; episode 216, again with Lawrence Mooney, released November 25, 2014; episode 228, again with Lawrence Mooney, released February 17, 2015; episode 232, the live podcast with Tom Gleeson, Claire Hooper, and Dilruk Jayasinha, released March 17, 2015; episode 232.5, the highlights from the Adelaide Drunkcast, along with Wil Anderson, Dilruk Jayasinha and Milan Crncevic, released March 23, 2015; episode 234, the live podcast with Ronny Chieng and Josh Earl, released April 1, 2015; episode 243, again with Lawrence Mooney, which was released June 3, 2015; and episode 258, the live podcast with Lawrence Mooney, Harley Breen and Dilruk Jayasinha, which was released on September 14, 2015
Community content is available under
CC-BY-SA
unless otherwise noted.