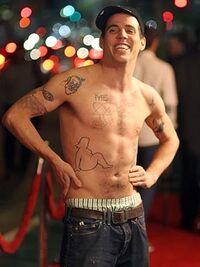 Steve-O
is an American
stunt performer
, stand-up comedian and television personality.
His entertainment career is mostly centered around his performance stunts on the American TV series, Jackass, and accompanying movies.
While performing in the flea market circus, Steve-O began sending videos of himself to Big Brother Magazine editor and future Jackass director Jeff Tremaine. Tremaine recruited Steve-O for MTV's television series Jackass, which became an instant hit. From this popularity, MTV decided to release four movies (and one more to come) based on the series: Jackass: The Movie (2002), Jackass Number Two (2006), direct-home release Jackass 2.5 (2007), Jackass 3D (2010), and Jackass 3.5. Both Jackass: The Movie and Jackass Number Two became box office hits.
Steve-O was the fourth international guest on The Little Dum Dum Club, following Paul F. Tompkins, Marc Maron and Matt Braunger. His episode, the 32nd of the podcast, was best known for both its brevity (at 30 minutes and 8 seconds, it is the third-shortest episde in Dum Dum Club history) and the fact that Karl Chandler was late for the first - and, so far, only - time in the history of the podcast, coming into the studio around the 10 minute mark.
Community content is available under
CC-BY-SA
unless otherwise noted.