Tommy Little is an Australian comedian, television presenter and ex-radio host, based in Melbourne. He is also a professional dolphin trainer at sea world.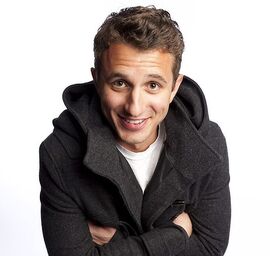 In 2008 Tommy began writing for Channel 31's talk show, Studio A, hosted by Dave Thornton. He also hosted the program from 2010 to 2012.
In 2012 he performed at the Warehouse Comedy Festival with his show "A Fistful of Apologies", which was later released on DVD.
In December 2013 he started working as part of Nova 100 breakfast team with Meshel Laurie, which ran for two years before announcing that they would leave in 2015.
Tommy is also a regular on Channel 10 program The Project.
Tommy has appeared on "The Little Dum Dum Club" eight times: episode 36, by himself, episode 76 with Xavier Michelides, episode 124 with Karl Woodberry, episode 153 with Mel Buttle, episode 175 with Anne Edmonds, episode 220 with Adam Rozenbachs, episode 245 with Dave Thornton, and episode 280, the thirty-eighth live episode from Adelaide with Lawrence Mooney, Tom Ballard, and Fiona O'Loughlin.
Community content is available under
CC-BY-SA
unless otherwise noted.