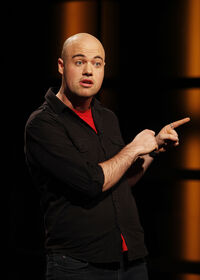 Xavier Michelides
is an acclaimed Australian stand-up comedian, currently based in Melbourne. He has performed at several Melbourne International Comedy Festivals and is regarded as one of the best-known comics on the Melbourne circuit.
To date, he has appeared on The Little Dum Dum Club nine times. His first appearance was in Episode 9, which was interrupted halfway by Nick Cody.
He returned for an epsiode with Lawrence Mooney, which was the show's landmark fiftieth episode. The episode was posted on September 12, 2011. Michelides' returned in March 2012 alongside Tommy Little. Six months later, Michelides made an appearance on the show's 104th episode, appearing with Tom Gleeson. On this episode, he attempted to have a new segment introduced to the show, entitled Xavier's Corner. This would become a recurring gag, and would eventually actually have the segment happen while calling Tommy and Karl while they were in the United States in episode 112.
Michelides returned on episode 121, alongside Claire Hooper; whose house was being used to record the episode. At the live episode for the Sydney Comedy Festival - episode 136 - Michelides appeared to do an impression of Luke McGregor. Fittingly enough, the next time Xavier appeared on the show was with McGregor himself - the two appeared as guests for Nick Cody's birthday party; and Xavier gave a speech. Most recently, Michelides was a part of a live episode for the 2014 Melbourne International Comedy Festival; alongside Ian Bagg, Peter Helliar and Bart Freebairn.
Community content is available under
CC-BY-SA
unless otherwise noted.